Bid to cut Scottish Borders young driver death rate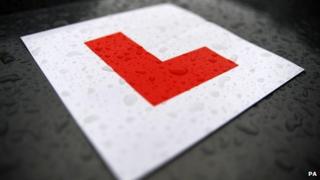 A two-year programme hopes to reduce the number of young people being killed and injured on roads in the Borders.
It will allow up to 400 drivers aged from 17 to 25 to get advanced training.
Scottish Borders Council has committed £48,000 to put them through the Institute of Advanced Motorists' (IAM) Skill for Life programme.
More than 400 people were injured on Borders roads from 2008 to 2012, with the annual cost of road accidents in the region estimated at £35.7m.
The scheme is supported by former British Touring Car Champion John Cleland.
He described it as "an opportunity to cut road deaths, cut government costs due to road accidents and make youngsters safer and more confident drivers".
Young motorists are being encouraged to attend a driver demo day held at his showroom in Galashiels on 23 March.
As well as getting a free health check for their vehicle by Mr Cleland, they will be able to get a demonstration drive and ask experts questions about the course, which normally costs £139.
Ch Insp Kenny Simpson said: "SBC is one of the first local authorities in Scotland to offer free sponsorship for 17 to 25-year-olds through IAM's Skill for Life programme.
"This is a great opportunity to learn skills which offer long term benefits not only to the driver but to the Borders community.
"There are far too many people killed or seriously injured on our roads and unfortunately young people account for approximately 20% to 25% of these."
As well as improving skills, the Skill for Life programme also provides a potential reduction in car insurance and a year's free roadside and recovery assistance.
Neil Greig, IAM's director of policy and research, said: "The best drivers understand that advanced driving will give them the chance to learn skills which will bring them a lifetime of benefits.
"With this new initiative SBC is leading the country in giving new drivers the experience they need to survive the high risk early months of solo driving."
Councillor Donald Moffat said the local authority was delighted to be able to support the scheme.
"The figures all show young drivers are particularly at risk of experiencing a crash, so anything we can do to give them more knowledge and make our roads safer has to be welcomed," he said.