Redeployment move over Dumfries police jobs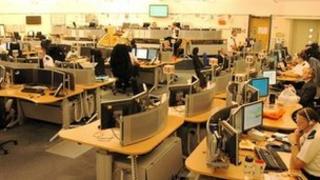 Police chiefs have told unions that work is under way to keep a number of civilian jobs in Dumfries after its control room closes.
Chief Constable Sir Stephen House confirmed the move during a Unison conference in Stirling.
A campaign was launched earlier this year after it was announced 34 posts would be lost in the south of Scotland.
Sir Stephen said efforts were being made to identify jobs which could be made available to staff affected.
The comments were made during a question and answer session when the panel was asked about the prospects for workers in Dumfries after the proposed closure next month.
A Police Scotland statement said: "The Chief Constable confirmed that work was under way to identify a number of jobs which could be made available to staff who were displaced by the proposal and who wished to stay within the organisation.
"This could involve alternative jobs within Dumfries or jobs that could be relocated to Dumfries and staff would be kept informed of progress as staff consultation progresses."
Dumfries is the first of five control centres set to close, to be followed by Stirling in December 2014, Glenrothes in March 2015, Pitt Street in Glasgow in March 2015 and Aberdeen in December 2015.