Safety probe into Lauder farmer death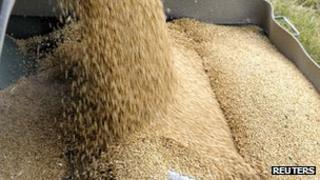 A safety investigation is under way after a farmer was killed in an accident in the Scottish Borders.
Police said Jim Sharp, 66, who farmed near Lauder, died on Monday afternoon while operating a grain auger.
They said the Health and Safety Executive was investigating the incident.
Mr Sharp was a former convenor of the NFU Scotland livestock board. Union president Nigel Miller said he had left his mark on farming in the Borders.
"His stockmanship amongst his hill sheep and husbandry on low ground demonstrate Scottish farming at his best," he said.
"As a man he had a sharp intellect and a level of experience which was of real value in serious conversation but also a generosity and love of life which made him great company."
Mr Miller said Mr Sharp had "contributed to debate in a positive way" at local and national level.
"Jim was an ambassador for all that is good in farming," he said.
"He gave a lot to our industry, the Borders community and the union.
"Most importantly he was a great friend that so many of us will miss.
"Our sympathy must be with his family."