Dumfries Theatre Royal lands lottery funding support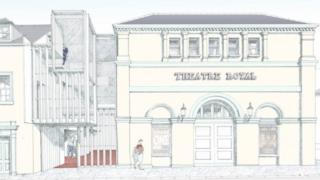 Scotland's oldest working theatre has gained a Heritage Lottery Funding grant to help safeguard its long-term future.
The Theatre Royal in Dumfries has been awarded £322,300 towards proposals for a major overhaul.
An ambitious £2m project to provide better access and facilities received planning permission last year.
The HLF has also announced support for St Cecilia's Hall in Edinburgh, Dunoon Burgh Hall and plans to create an art gallery in Kirkcudbright Town Hall.
The Theatre Royal was built in 1792 and included Robert Burns among its original patrons.
Its collection of props, scripts, costumes and artefacts depicting 200 years' of trends in drama, literature, fashion and set design will be used to tell its story through interpretation, exhibitions and outreach work.
The theatre will be repaired and restored and an adjoining building converted to house new storage for the collections as well as an exhibition showcasing its history.
There will be a new café and bar while an educational studio and digital media suite will be built as part of a wider educational programme to encourage people to engage with the history of live theatre in the town.
St Cecilia's Hall in Edinburgh will also receive £823,500 while Dunoon Burgh Hall gets some £575,000 to help "restore and transform" the building.
It will allow it to offer a wider programme of events, performances and exhibitions.
As part of the project, a programme of heritage activities will help record the history of the hall and there will be a wide range of learning opportunities associated with traditional building conservation.
Plans for a major art gallery in Kirkcudbright have also cleared the first hurdle towards a £969,100 grant.
The project will save the town hall, which is currently at risk, while also providing better access, care and interpretation to the council's collections of paintings, drawings, print-making, furniture, photographs and ceramics.
These include works by members of the Glasgow Boys and artists from the Scottish Colourist movement such as SJ Peploe.
Colin McLean, head of the HLF in Scotland, commented: "Cultural venues have a hugely important part to play in the life of our communities.
"They are held dear in our hearts as they are interwoven with the history and cultural traditions of a place giving it a unique sense of identity.
"They have delighted, educated and entertained audiences throughout the years and continue to do so.
"They also inspire and involve people of all ages in memorable and rewarding experiences which enrich their lives."