Dumfries and Galloway break-in spate targets empty homes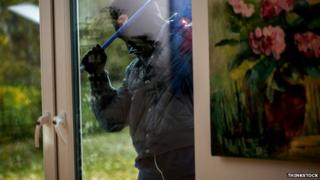 Police say a recent spate of break-ins in southern Scotland has been targeting empty homes - sometimes due to the death of the occupants.
A number of homes have been hit across Dumfries and Galloway - often with jewellery and cash being taken.
Police have urged the public to take extra care when leaving a property unattended for any length of time.
They have asked people not to "advertise the fact" they are away and get a friend to check on their home.
Police said many of the break-ins had targeted vacant houses with the owners either away on holiday or, in some cases, having recently died.
Det Insp Colin Burnie said: "There are some clear similarities between all of these break-ins, in the type of property taken, specifically jewellery and cash, and in the fact that most of the properties were vacant when the break-in occurred.
"While a number have been opportunist break-ins, taking advantage of an open window or unlocked door, many of them have been as a result of what we called forced entry, such as a window getting forced or sometimes doors or patio doors being forced open.
"This type of break-in can cause significant damage to property, and also cause a lot of noise during its commission.
"Hence, the targeted properties are usually vacant, where no-one inside can be disturbed."
Practical tips
He said "simple steps" like closing the curtains in the evening or putting a light on to show the house was occupied could stop a home becoming a "potential target".
He added that Police Scotland could also offer a free home security survey.
"It only takes a call on 101 to arrange and could perhaps save the heartache of a break-in in the future, with some simple, yet practical tips and advice on how to make your home more secure," he said.
"We also reiterate the plea to the public that if they see or hear something that is suspicious, or even 'just not right', then give us a call on 101 at the time.
"Calling the police at the time when you see or hear something gives us the chance to get there and investigate it in good time."