Dumfries and Galloway councils seek wind farm moratorium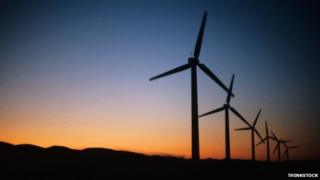 Fifty community councils from across Dumfries and Galloway have called for a moratorium on planning consent for wind farms in the region.
They have written to the Scottish government and their local council.
Willie Dickson, of Corsock and Kirkpatrick-Durham Community Council, said "impartial, accurate information on the pros and cons" was needed.
The Scottish government said a moratorium would be "unprecedented" and create a backlog of cases.
The community councils say hundreds of wind farms are operational or planned across southern Scotland.
They said they could cumulatively have a "profound impact on the landscape and wildlife".
They claim a map produced by Scottish Natural Heritage shows southern Scotland has more onshore wind farm developments proposed than any other part of the country.
The community councils said that followed recent studies highlighting the impact of wind farms on property prices and tourism.
Mr Dickson said: "Our community council felt overwhelmed by the number of wind farm proposals being planned for our area.
"When we consulted other community councils across Dumfries and Galloway, it became clear that many others felt the same.
"We need impartial, accurate information on the pros and cons of the proposed wind farm developments.
"And we need sufficient time and resources to consult the communities we serve and represent."
'Democratically considered'
He said the developments being proposed could have a major impact for the next 25 years.
"These need to be properly and democratically considered," he said.
The letter, signed by the 50 community councils, asks both the Scottish government and Dumfries and Galloway Council for a moratorium on wind farm applications until the cumulative effects can be properly assessed.
The community councils said they felt it was the only "reasonable and democratic" way forward.
A Scottish government spokesman said the planning process had a "key role" to play in ensuring all types of development were balanced with the needs of communities and quality of the environment.
He said community councils were consulted on development plans and on major development proposals at the pre-application stage.
"We agree that it is important that we have the right developments in the right places, and balance protection of our scenic and wild areas alongside the need to reduce the carbon emissions of the energy sector and help keep the lights on," he said.
"Our planning policy is very clear on the issue of cumulative impact, ensuring that planning authorities take that into account in the planning process."
He said schemes in Dumfries and Galloway were determined in accordance with the local development plan.
"Any moratorium on determining wind turbine applications would be an unprecedented step in Scottish planning practice, and would simply lead to a build-up of cases to be determined once the moratorium had been lifted," he added.
"Previous calls for moratoria in Moray and in Fife have been rejected on this basis."
He said the Scottish government recognised the pressure on community council and worked with them to consider consultation deadline extensions on a case by case basis.
A short statement from Dumfries and Galloway Council said: "We will consider the issue but we are aware that the Scottish government has rejected previous similar requests."