Dunragit bypass opening cuts risk of Challoch Bridge strikes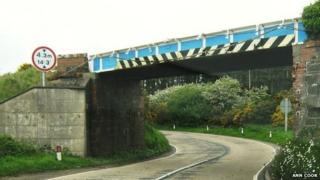 A £17m bypass project is opening which will allow vehicles to avoid a railway bridge which has been hit more than 50 times in the last seven years.
The scheme on the A75 removes traffic from Dunragit village and cuts out the height-restricted Challoch Bridge.
Some traffic management measures will be in place until the end of April.
Transport Scotland project manager John Quail said once it was fully open it would "reduce driver frustration" and "deliver value for money".
The Challoch Bridge is regularly mentioned in travel bulletins as it has been hit about eight times a year since 2007.
It prompts both road closures and checks on the structural condition of the bridge.
Mr Quail said the early switch of traffic onto the bypass before the project was complete could bring "immediate benefits" by taking traffic away from the village.
He added that it would also reduce the likelihood of bridge strikes which cause "lengthy diversions and delays to journey times".
"The new bypass is essential to providing economic prosperity for businesses, the leisure and tourism industries, and communities along the length of this vital road and for Scotland as a whole by improving connectivity through the south of Scotland," he added.
For the safety of road workers, a speed limit of 40mph will be in place throughout the ongoing works.
Traffic management measures are expected to be removed towards the end of April allowing overtaking opportunities in both directions, with shared facilities for cyclists and pedestrians in places.
The project is scheduled for completion in summer 2014.