Scottish provosts form association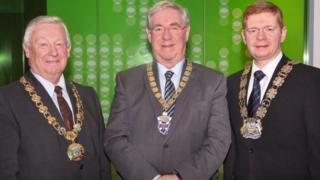 An association of council provosts has been set up to try to champion local government across Scotland.
Provosts act as civic heads for their councils and are often ambassadors for their areas.
The Scottish Provosts Association hopes that by working together, provosts can become more effective
One of its aims will be to try to increase voting in council elections. Graham Garvie, of Scottish Borders Council, is the body's first president.
He said: "Everybody knows that councils deliver key services in their communities but often the vital role of the civic head as a community ambassador in these same communities can be somewhat overlooked.
"It is primarily for this reason that the Scottish Provosts Association is being recreated.
"Scotland has a very long tradition of local civic government and the value of a non-party-political association of provosts as a defender of the institution of local government and the idea of local democracy cannot be underestimated."
Councillor Tom Kerr, Provost of West Lothian Council, said the association would offer "internal support, training, development and advice to its members".
"We also aim to champion local government and local civic leadership as a centuries-old institution," he said.
"We need to ensure that this remains relevant to local people and that this relevance is translated into increased voter turnout at local government elections. "
'Common status'
The association's membership will be open to civic heads from all of Scotland's 32 councils and their deputes.
Councillor Malcolm Bell, of Shetland Islands Council, added: "Civic heads of the 32 councils in Scotland are busy people.
"They have civic responsibilities in their own councils which take a considerable amount of time on top of the duties which are required of any councillor.
"It was felt that their common status within local government could lead to an association which would add value.
"It is important to build an association that focuses on real ways in which, working mutually, civic heads are enabled to be more effective in their role."