Dumfries hosts two international curling competitions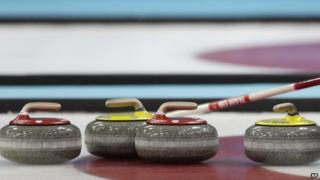 Two major curling competitions are under way in Dumfries just a couple of months after Scottish competitors scooped medals at the Winter Olympics.
The World Mixed Doubles and Senior events run until Wednesday at the town's Ice Bowl.
Dozens of teams from around the world are competing for the titles.
Eve Muirhead and David Murdoch raised the sport's profile in Sochi in February as their rinks both finished among the medals.
A record total of 34 countries are seeking the mixed doubles title while 15 women's and 25 men's national teams - also a record - are pursuing the senior honours.
It is part of a hectic week of curling activity in the south west of Scotland.
On Saturday the two winning rinks from Sochi - many of them from Dumfries and Galloway - are visiting Lockerbie Ice Rink in a special "welcome home" event.