Selkirk water works 'lost village' history becomes clearer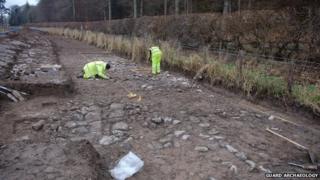 Further details have emerged of the nature of a "lost village" discovered during water main works on the outskirts of Selkirk.
The stones, cobbles and artefacts unearthed are thought to date from between the 14th and 16th Centuries.
They were found during a Scottish Water project to lay a new water main.
Initial studies in late 2012 suggested the findings may have been related to an Anglo-Saxon settlement but it now appears to date from a later period.
Investigations by Guard Archaeology uncovered the foundations of stone-built structures, cobbled farmyards and the foundations of walls, buildings and hearths.
Artefacts included a decorated stone spindle whorl, medieval pottery and pivot stones, thought to have been used as a hinge for doors on buildings.
The location, just next to the A708 on a south-west approach to the town, is also within the site of the 1645 Battle of Philiphaugh, though historical accounts of the battle make no mention of a village in the area.
However, having studied the findings closely, archaeologists have concluded that there is likely to have been a small agricultural settlement located along the edge of the valley floor in the late medieval and early post-medieval periods.
'Continually surprised'
The view has been supported by historical research and radiocarbon dates from charcoal found in hearths.
Simon Brassey, of Scottish Water's specialist engineering environment team, said: "When working in areas of archaeological impact and you find artefacts you are continually surprised what you uncover."
John Atkinson of Guard Archaeology described the discoveries as "very exciting".
Dr Chris Bowles, archaeology officer with Scottish Borders Council, said: "This is a significant addition to our knowledge of where and how people lived in the medieval Scottish Borders.
"Our sincere thanks go out to Scottish Water and Guard for ensuring this important site has been discovered and understood."