Arran Brewery among bidders for Bladnoch Distillery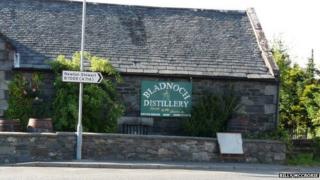 An Ayrshire beer maker has confirmed it is among the bidders to buy Scotland's most southerly whisky distillery at Bladnoch from administrators.
Arran Brewery said its investment partners had agreed to support their efforts to purchase the facility.
A spokesman said it hoped to find out "in the next few weeks" if its attempt to buy the site would be taken forward.
Administrators said the deadline to bid for the site passed on Friday and there had been "significant interest".
A spokesman for Ernst and Young said it was now working through the first round of applications before moving on to a second phase.
The company which owned the Bladnoch Distillery - which dates back nearly 200 years - went into liquidation earlier this year.
It was hoped at the time that the site, which had less than 10 staff, could be sold as a going concern.
The Arran brewery has recently purchased two other sites, one in St Fillans and the other in Dreghorn.