Dumfries and Galloway Arts Festival opens with opera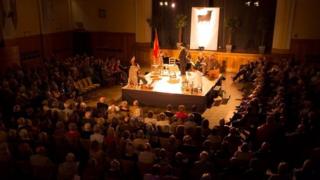 Ten days of events in the Dumfries and Galloway Arts Festival are getting under way with a performance of the Giacomo Puccini opera Madame Butterfly.
The Friday night event at Easterbrook Hall kicks off a packed programme throughout the region.
The festival runs until 25 May and includes dozens of performances aimed at all age groups.
Programme director Peter Renwick said it had been described as "Scotland's biggest rural multi-genre festival".
"Over the past week or so we have recorded our quickest ever ticket sales so we think things are going well so far," he said.
"One thing we are particularly proud of this year is that for our core programme under 26s have all got half-price tickets.
"So as well as having something for everyone we are making sure it is accessible to everyone both cost-wise and in making sure that there is something on your doorstep."
The full programme of the festival is available online.