New Peebles High sports hall is 'world class' facility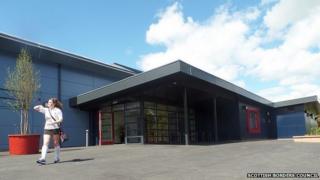 A new sports hall opened at Peebles High has been described as a "world class" facility by the school's rector.
The £4.8m building contains both indoor and outdoor pitches alongside a fitness suite and a general hall.
Athletes Chris O'Hare and Jo Petitt, both former pupils at the school, helped open the building.
The project was cross-funded by Scottish Borders Council (SBC) and sportscotland.
The school's rector, Campbell Wilson, said: "The impact on the young people has been tremendous already. We see smiling faces every time our students come to Physical Education and they are as impressed as all of the staff at the standard of the facilities we now have.
"In a week when the inactivity of Scotland's young people is being highlighted in the national press it is important to send out the message that young people in Tweeddale are very active and that, now we have world class spaces for sport, we are increasing their opportunities to access sport further still."
He added: "The school and the wider community will benefit for years to come."
The project was funded by a £4.3m investment from the SBC with an additional grant contribution of £500,000 from sportscotland.
Stewart Harris, chief executive of sportscotland, said: "It is wonderful to see the new facilities at Peebles High School officially opened, and I'm sure they will become an asset for the school and wider community.
"The revamped facilities at Peebles High will help to increase the number of children involved in sport and physical activity, as well as widening the sporting opportunities for clubs throughout the area."