Coldingham Bay lifeguards save teenagers swept out to sea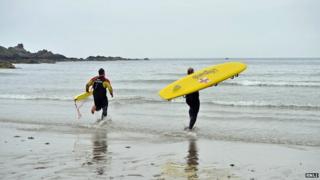 RNLI lifeguards have saved two teenagers after they were swept out to sea at Coldingham Bay in the Borders.
The pair had been paddling but got into difficulty when strong currents in the area carried them away from shore.
Lifeguards Giordano Ceccarelli and Nick Campbell were able to reach the boy and girl involved and take them to safety.
The teenagers were unhurt but the RNLI said it showed rip currents could be hard to spot and to always swim between red and yellow flags.
The incident happened at about 15:40 on Monday when the lifeguards spotted the pair in difficulty.
One paddled out to the girl on a rescue board while the other swam out to the boy.
'Incredibly grateful'
Both lifeguards had their casualties back on the beach "in no time".
The RNLI said the teenagers were both "incredibly grateful" to their rescuers.
Lifeguard Mr Ceccarelli said: "We would encourage anyone to come and enjoy the beach and swim in the sea but rip currents like this are difficult to spot so please follow the advice of the lifeguards and always swim between the red and yellow flags.
"Nick and I were really pleased to be able to help and glad to see the pair back on dry land."
The RNLI only started operating a lifeguard service in Scotland last year.