Pentland Hills park expansion plan backed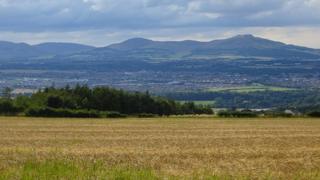 A rural landscape charity has announced its support for extending the Pentland Hills Regional Park into the Borders and South Lanarkshire.
The Association for the Protection of Rural Scotland (APRS) claimed the current boundary was an "anomaly".
The view is contained in its response to recent consultation by MSP Christine Grahame on the park's expansion.
APRS director John Mayhew said the move could provide "greater opportunities for a wider range of people".
Ms Grahame has put forward proposals for a bill to extend the boundary of the park.
Consultation on that plan closed late last month.
In its response, the APRS stated: "It is clear that the compromise boundary established in 1986 lacks logic, as it resulted from administrative considerations at the time rather than defensible landscape criteria.
"So it is right that this anomaly should now be rectified.
"This will help the entire Pentland Hills range and its surrounding communities to achieve its full potential, and will secure the integrated management of the Pentland Hills for the benefit of future generations."