Glasgow 2014: Queen's Baton in Borders and Dumfries and Galloway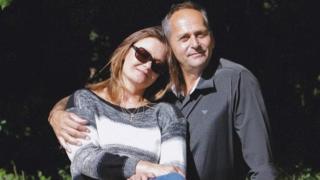 The Queen's Baton Relay will visit a wedding during the second of its two days in the south of Scotland.
After touring the rest of the British Isles for a month, the baton arrived home to Scotland on Saturday when it crossed the border into Coldstream.
Following its time in Edinburgh and the Lothians, it returned to the Scottish Borders on Wednesday and was carried through Duns, Greenlaw, Earlston, Melrose, Tweedbank, Selkirk, Kelso, Jedburgh and Hawick.
In Melrose, the baton visited the ground of the rugby club - known worldwide as the home of rugby sevens. The sport will feature at the Commonwealth Games in July, with the tournament held at Ibrox Stadium.
The baton also visited Selkirk Rugby Club during its time in the Borders and went off track with some mountain bikers in Glentress.
Rugby was the constant theme for the baton's journey in the Borders, with former Scotland and British Lions scrum-half Roy Laidlaw and current player Lee Jones as baton bearers.
The day of celebrations finished with an event in Hawick's High Street.
On Thursday - the sixth of the baton's 40-day journey around Scotland - the relay will arrive in Dumfries and Galloway and will be carried by locals in Langholm, Gretna, Eastriggs, Dumfries, Castle Douglas, Kirkcudbright, Newton Stewart and Stranraer.
You can watch the baton's journey through Scotland live on the BBC website.
The baton has travelled over 118,000 miles (190,000km) since it left Buckingham Palace with a message from the Queen inside last October.
It has travelled on a steam train in Sri Lanka, under water in the Seychelles and on one of the last Royal Mail ships in the world to the island of Saint Helena in the South Atlantic Ocean.
When it arrives in Gretna - known for weddings - the baton will travel by horse and carriage and will join Damone Barnes and Sally Virginia Eastmond, a couple from Surrey who are getting married on the day in the town.
The baton will be carried by around 100 people a day - many of whom have been chosen for their work in their local communities - before it plays a key role in the opening ceremony of the Commonwealth Games in Glasgow on 23 July.
The relay, which is the main curtain raiser for Glasgow 2014 and has been a Commonwealth Games tradition since 1958, has travelled all over the world to 70 nations and territories in the Commonwealth.