Sir Walter Scott's Abbotsford House: Trustees make house fight vow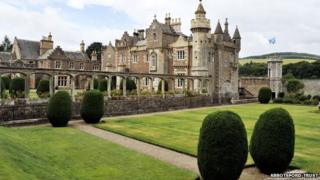 Trustees at the former home of Sir Walter Scott in the Borders have said they will fight any plans to put housing on land near the historic site.
There have been two public inquiries about Netherbarns - which sits over the River Tweed from Abbotsford House.
Both times any plans to develop the site were thrown out.
However, Scottish Borders Council's draft local development plan sees the area zoned for up to 45 homes or a new school for Galashiels.
Consultation on proposals has just ended, laying out where - and what - future development is acceptable in the Borders.
The two previous plans proposed around 70 homes at Netherbarns - a site bought by builders M&J Ballantyne in 2005.
Major refurbishment
In both cases public inquiries rejected any development there, given its proximity to Abbotsford.
The latest draft plan again sees Netherbarns zoned for housing or educational facilities.
Chairman of the Abbotsford Trust, Lord Sanderson of Bowden, has called the council's inclusion of Netherbarns "perverse".
The house has just undergone a major refurbishment, with a new visitor centre - aimed at making it a world class tourist attraction.
The trustees said they were unanimous they would again fight any development plans - although they say that would divert resources which would be better spent on Abbotsford itself.