Dumfries winter sports events provide 'tremendous boost'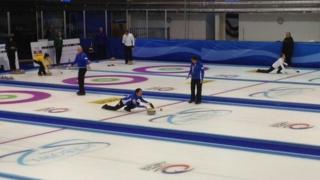 A string of winter sports championships in Dumfries has provided a major boost to the local economy, the area's "events champion" has said.
Colin Smyth was speaking at the launch of the countdown to the Women's Senior World Ice Hockey Championships.
They will be held at Dumfries Ice Bowl in spring 2015.
Mr Smyth, from Dumfries and Galloway Council, said previous events had brought significant financial benefits and boosted the area's profile.
The equivalent competitions for Under 18s and Under 20s held this year are estimated to have brought a cash injection of more than £160,000 to the region's economy.
Dumfries and Galloway has now staged a number of high profile international competitions and world championships in ice hockey, curling and skating.
'Competitive market'
Mr Smyth said continuing to attract high calibre events was vital for the south west of Scotland.
"It does bring a tremendous boost to the area," he said.
"One of the advantages, as well, is that very often you get visitors coming to Dumfries for the tournament for the first time and we hope that they will return again in the future.
"So it does bring a large boost to the local economy."
He said it was part of a wider council strategy to support major events across the region such as the Wigtown Book Festival and the Wickerman Festival.
"We invest in trying to attract these events because we know in a competitive market you've got to give people a reason to come to the region and major events such as this are one of those reasons," he said.