Jim Clark Rally crash deaths: Funeral held for Len Stern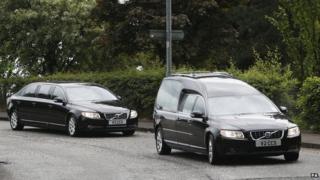 The funeral has taken place of a man from Bearsden who was one of three spectators killed in a crash at a rally in the Scottish Borders.
Len Stern, 71, died after a car came off the road near Coldstream at the Jim Clark Rally on 31 May.
Iain Provan, 64, and his partner Elizabeth Allan, 63, of Barrhead, also died in the incident.
About 100 friends and family attended Mr Stern's funeral at Clydebank Crematorium.
The service was conducted by the Rev Graeme Wilson of Bearsden Cross Church.
The family of Mr Stern said in a statement last week: "Len was a special uncle who was well-loved by the family.
"His death is really tragic but he died watching the sport that he loved.
"Our thoughts are with the driver and his family during this difficult time."
The funerals of the other two victims are due to be held on Wednesday.
The accident in which they died happened at Little Swinton, near Coldstream, two hours after another rally car left the road and hit five people - four men and a woman.
Police have appealed for witnesses to the fatal crash, and the earlier one near Eccles, to contact them.
Scottish Justice Secretary Kenny MacAskill announced last week that police will carry out a review of safety at public events in Scotland in the wake of the deaths.
The Scottish government will also commission a review of motorsport event safety in light of the tragedy.
There have been calls for a fatal accident inquiry into the incident and a previous death at the Snowman Rally in the Highlands last year.
Mr MacAskill has already stressed that a decision on whether or not to hold an FAI would lie with the Lord Advocate.