Glasgow 2014: Borders prepares for Queen's Baton Relay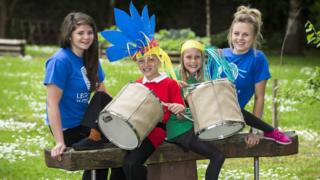 Preparations are well under way in the Borders for the arrival of the Queen's Baton Relay in Scotland this weekend.
Having travelled around the world, it will cross the border at Coldstream on Saturday ahead of the Commonwealth Games in Glasgow this summer.
Among those getting ready for its arrival have been pupils at Drumlanrig St Cuthbert's Primary in Hawick.
They have been rehearsing their Hawick-a performance - a cross between the New Zealand Haka and a common riding song.
The baton crosses into the Borders on Saturday before heading up to Edinburgh later in the day.
It will return to the Borders on 18 June.
It spends a total of 39 days in Scotland, finishing its journey in Glasgow.
Are you planning an event for the Queen's Baton Relay in the Scottish Borders or Dumfries and Galloway? Send any images of your preparations to the BBC Scotland news website's south of Scotland reporter at giancarlo.rinald@bbc.co.uk.
Please ensure when filming or photographing that you make your safety and the safety of others a priority.
If you submit an image, you do so in accordance with the BBC's Terms and Conditions.