Glasgow 2014: Queen's Baton to visit Gretna wedding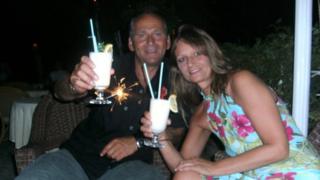 A couple who met in a supermarket aisle are looking forward to a marriage with a difference in Gretna.
Damone Barnes, 52, and 49-year-old Sally Virginia Eastmond will tie the knot on Thursday - the day the Queen's Baton Relay passes through the town.
Relay organisers have chosen the couple to pose for photographs with the baton on a horse and carriage.
Damone said they were "so excited" at the prospect - even though it scuppered their plans for a secret wedding.
Gretna established itself as a wedding location after a law was passed in 18th Century England which meant couples had to be 21 before they could get married without their parents' consent.
With no such law in place in Scotland, many young lovers travelled north to Gretna for their nuptials - a tradition which has continued down the years.
'Secret wedding'
Sally and Damone, from Dorking in Surrey, were initially planning to not tell their friends and family so they could elope like English couples of old.
However, with the baton relay now a feature of their big day, the secret is out.
"We have gone up there for a secret wedding and it is going to be televised," said Damone, who works as a maintenance man at a horse riding centre.
"We didn't want anybody to know, and now the whole country is going to know. We are so excited about it."
The couple still shop in the same supermarket in Leatherhead where they first met 10 years ago.
Ran over
Shelly, a housekeeper, explained: "I went to Tesco shopping one afternoon and in a hurry I ran Damone over with the trolley.
"I ran him over again and I was totally embarrassed. I then ran him over again at the checkout.
"I said 'I'm really, really sorry what can I do to make it up to you?' and he said 'Have dinner with me'.
"We have been together ever since."
The Queen's Baton is the Commonwealth Games version of the Olympic torch. It contains a message from the Queen which will be read out at the opening ceremony of the Games.
The baton has travelled over 118,000 miles (190,000km) to 69 nations and territories of the Commonwealth since October last year.
It is currently travelling to every local authority area in Scotland, the 70th and final destination.
You can watch a video stream of the journey in Scotland every day in the run up to Glasgow 2014.