Kelso High School plans submitted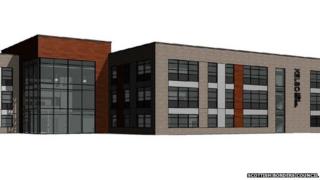 Scottish Borders Council has submitted a planning application for a new £21.8m high school to be built in Kelso.
It follows a deal with land owners Lothian Estates for ground at Nethershot on Angraflat Road.
Community drop-in sessions are expected in the coming months to provide updates on the project.
Councillor Sandy Aitchison said: "The submission of the planning application brings a new Kelso High School another step closer."
He said he was pleased to see the project progressing and looked forward to seeing a brand new facility with an "improved learning environment".
Paul McGirk, chief executive of the council's development partner Hub South East Scotland Ltd, added: "We are delighted with the progress being made on this project in partnership with the council.
"Pupils and staff will benefit from modern, fit-for-purpose facilities and the community will benefit from investment in the local area.
"We look forward to making these plans a reality."
Hub South East Scotland has appointed Morrison Construction as contractor to build the school.