Rhona Martin Olympic gold medal Crimewatch plea provides leads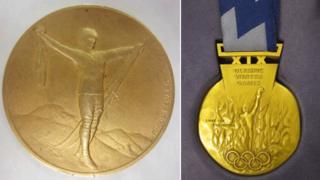 Police say an appeal made on Crimewatch Roadshow over the theft of Olympic gold medals from Dumfries museum has produced a positive response.
The items - including a medal won by Rhona Martin - were taken at about 22:00 on Wednesday 30 April.
The TV appeal last week featured CCTV footage of three people making their way out of the museum.
A police spokesman said they had received a number of calls which they hoped would produce "positive leads".
Thieves targeted items in a special curling exhibition at the museum, including medals from the 1924 and 2002 Winter Olympics.
'Bit of a success'
The total value of their haul has been estimated at about £34,000 although police said it was almost impossible to put a true price on Ms Martin's medal.
The appeal on the BBC programme went out last week.
"We have received a number of calls which we are actively following up just now," said a police spokesman.
"It has been a bit of a success at this stage although it is still early in our inquiries."