Dumfries and Galloway landfill site solar role proposed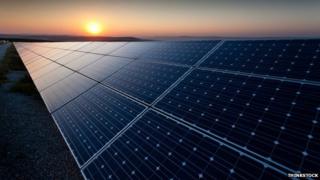 Former landfill sites in Dumfries and Galloway are being earmarked for redevelopment as solar energy "farms".
The council is looking to negotiate a deal with an investment company specialising in the renewables sector.
A range of potential uses have been investigated for the four former waste landfill sites across the region.
In a new report, the local authority says the most attractive long-term option is to lease the sites to house ground-mounted solar panels.
Following early negotiations, a proposal tabled by Environmental Energy Investments Ltd emerged as the preferred option.
It would see the company meet the capital costs of installing the solar panels as well as the operation and maintenance of the facilities.
The offer - based on a 30-year lease - includes a 9 megawatt (MW) scheme at the Lochar Moss site on the outskirts of Dumfries which would also supply power to the adjacent zero waste recycling park.
A second 2.3MW scheme would be developed at Corsehill near Annan.
If viable, two further solar energy "farms" could be created at former waste sites near Sanquhar and Whithorn.
All the developments would be subject to planning permission.