Newton Stewart social club blaze cause investigated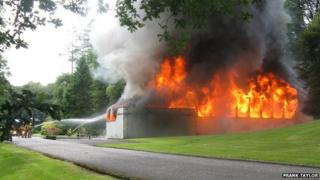 The cause of a fire which ripped through a social club in Wigtownshire is under investigation.
The single storey building at Penninghame near Newton Stewart was destroyed in the blaze.
Fire crews were called to Penninghame Social Club at about 12:30 on Wednesday.
Five vehicles were sent to the scene - two from Newton Stewart along with others from Gatehouse, New Galloway and Stranraer.
Firefighters spent about six hours tackling the blaze which caused part of the building to collapse.
As well as dousing the flames, crews used water jets to cool two propane cylinders which were housed inside the property.
The Scottish Fire and Rescue Service said no-one was injured.