Loch Ken crayfish dangers explained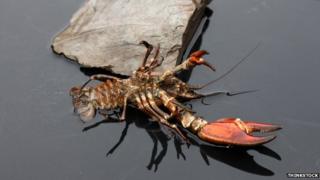 Environmental experts are staging a session to explain the risks posed by a huge invasion of non-native crayfish in a south of Scotland loch.
There have been problems at Loch Ken for a number of years.
North American signal crayfish have been blamed for destroying the once-thriving angling waters.
The Scottish Environment Protection Agency (Sepa) is holding a session in New Galloway on Saturday to explain what can be done to deal with them.
As well as Sepa, Scottish Natural Heritage, Galloway Fisheries Trust and Police Scotland will attend the event.
They want to talk to local businesses, residents and regular water users to highlight the threat the crayfish pose to other waterways in Dumfries and Galloway.
It has been estimated that non-native species cost about £244m a year to the Scottish economy due to damage to local infrastructure, leisure and tourism, forestry, horticulture and aquaculture.
The main objective of the New Galloway event is to provide "factual information" and an opportunity to talk face-to-face to organisations who deal regularly with the issue of signal crayfish.
The event will also help to build on the campaign of advice which has been rolled out across the region over the past two months, which encourages all water users to take practical steps to prevent the spread of non-native species between waters they visit.
'Strong concerns'
Anne Connick, planning officer for Sepa's catchment management initiative, said it was aware of the "strong concerns" over the issue in the area and wanted to provide "accurate information" about what could or could not be done to control populations on Loch Ken and elsewhere.
She added: "It is also important, however, that we are able to explain the risks that they pose, and the need for us all to help protect other water bodies that are currently unaffected.
"This event will be an opportunity for people to meet with us, and others who work on this issue across the region, to ask questions and hopefully find out how they can help to reduce the threat that North American signal crayfish pose to Scotland's water environment."
The drop-in session is on Saturday at the Cross Keys Hotel in New Galloway from 12:00 to 15:00.