Johnstonebridge and Cadder communities land £2.2m lottery boost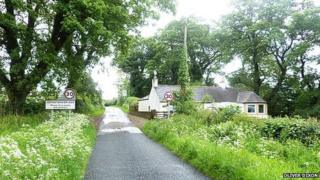 Communities in Glasgow and southern Scotland have landed more than £1m each from the Big Lottery Fund for "much-needed" facilities in their areas.
A village "hub" will be built next to the primary school at Johnstonebridge in Dumfries and Galloway.
And a new community centre is to be constructed at Cadder in Glasgow.
Maureen McGinn, who chairs BLF Scotland, said it would allow both areas to have "increased social and economic opportunities".
The grant of £1,191,000 for Cadder Housing Association will enable the group to build a new community centre "offering better services and increasing opportunities".
An existing disused sports barn will be demolished and the new centre built at the site.
A small community centre at the same site, which was saved from closure, will be refurbished as the group's offices.
Linda Brown, who chairs the CHA, said the funding was a "major milestone" for the project.
Johnstonebridge Centre and Community Development Trust will use its grant of £1,052,117 to build a new community hub next to the village primary school.
A multi-use games area, play park, and a planned bowling green and tennis court, will create a complex of facilities to serve the village.
'Valuable assets'
The hub will include an existing post office, a new convenience shop, a commercial kitchen, a function hall, a youth club and a room with access to a secure outside area for pre-school care.
Fred Dale, who chairs Johnstonebridge Centre and Community Development Trust, said: "It has taken our breath away receiving the Growing Community Assets grant.
"And it is very timely, as the present village hall closes in November so the funding will help save valuable community assets, including the post office.
"Today's award will enable us to achieve what we thought was an impossible dream and make the new facility work for all local residents and friends beyond."