Farming leader Nigel Miller awarded honorary fellowship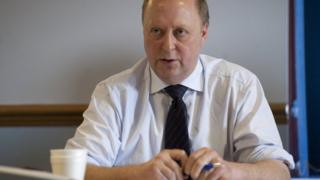 The National Farmers Union Scotland's president has received an honorary fellowship for his "outstanding contribution" to the industry.
Nigel Miller, who farms at Stow in the Borders, was given the honour by Scotland's Rural College (SRUC).
He received the award during the annual SRUC graduation ceremony at Bute Hall in Glasgow.
SRUC acting chief executive Janet Swadling praised his "passionate advocacy" of Scots agriculture.
She said he had brought "energy, drive, academic rigour, powerful thought and considered analysis" to his role.
"Yet all this is done with a light touch, humour and humility," she added.
"He has recognised the significance and challenges of climate change and the issues linked to it such as nutrient management, energy conservation and the need for behavioural change.
"These are all issues of real concern to SRUC, its staff and students and we share common ground with Nigel."
Mr Miller has been NFUS President since 2011 and is both a vet and a farmer.
'Extraordinary privilege'
Returning to the family farm after veterinary practice in Rogart, he became involved in local union activity.
In 2001 he joined the veterinary teams in Dumfries and Galloway involved in the foot and mouth outbreak and experienced at first hand the devastating effect the disease had on stock, the farming community, vets and the local economy.
He described it as the most extreme experience of his life.
Afterwards, he was asked by his local NFU to join a group looking into future disease control strategies.
Since then has played an influential role in shaping Scotland's animal health and welfare contingency plans in Scotland.
Mr Miller said receiving the fellowship was an "extraordinary privilege".
"I hope that I can give something back to SRUC as it takes its next steps," he said.
"I am sure that development can keep SRUC at the front of Scottish farming and also ensure its knowledge and science reach into Europe and worldwide."