Piranhas saved from 'uncertain' fate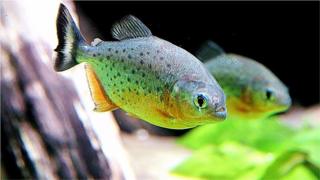 A seven-strong shoal of red-bellied piranhas that had outgrown a home aquarium in Dumfries and Galloway is settling in to new surroundings.
They are said to have faced an "uncertain future" until Deep Sea World in North Queensferry intervened.
The fish were too big for the tank they were being kept in and their owner could no longer take care of them.
Michael Morris, of Deep Sea World, said people were often "unprepared for quite how fast and how big they grow".
"Sadly, we are simply not able to rehome all species," he said.
"But fortunately we have a large piranha display here at Deep Sea World which is around seven times larger than their old tank and can comfortably accommodate them."
'Risky task'
He said the fish had spent time in a "quarantine area" before being introduced to the main display, which is home to a group of around 40 other piranhas.
"Adding any new members to a piranha shoal can be a risky task, but we use many different techniques to make sure they fit in with minimal pack disturbance," he added.
Found throughout the Amazon, the piranha is among "the most famous and most feared" inhabitants of the river.
In the wild, piranhas help to keep rivers fresh and healthy by eating animal carcasses.
The name piranha comes from the Tupi Indian words "pira" fish and "ranha" teeth.