Teenagers rescued from Solway Firth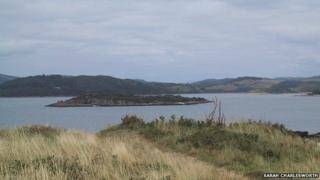 A warning about swimming in open water has been issued after two young girls had to be rescued after getting into difficulties in the Solway Firth.
The girls - aged 12 and 16 - were pulled to safety by members of the Kippford Inshore Lifeboat.
They got into difficulties near Rockcliffe on Monday afternoon.
Members of the public spotted them fighting the strong currents between Rockcliffe and Almorness Point and alerted the emergency services.
Kirkcudbright coastguards, the Kippford RNLI Lifeboat and a search and rescue helicopter from RAF Bulmer were called out.
The girls are believed to have been trying to swim to nearby Rough Island but landed at Almorness Point.
It was as they were trying to return that they were caught by the strong currents in the channel and were spotted in difficulties.
The girls were picked up by the Kippford Lifeboat and were later checked out by a medic from the helicopter who was lowered by winch.
They were shocked but unhurt.
A coastguard spokesman said: "We tasked the lifeboat, coastguard team and the rescue helicopter from Bulmer after a 999 call from the public that the girls were difficulties.
"The Kippford Lifeboat was on scene and rescued the two girls and a trained medic on board the helicopter was winched down to attend to the girls for a route check-up.
"However, they were unhurt and were able to go home."
'Very dangerous'
He added that the warm weather made the water "very attractive" but people had to realise the dangers of sea water or lochs and rivers.
"The girls were caught in the tidal current which can be very dangerous around the coastline of the Solway and parents must keep a close watch on children and young people," he said.
"Checks must be made on currents and the state of the tides to try and prevent a tragedy."
The latest warning follows a safety message last week from Scottish Water and the Royal Society for the Prevention of Accidents following the death of a teenager from Dumfries who got into difficulties in the River Nith in June.