Selkirk flood protection scheme works aided by dry weather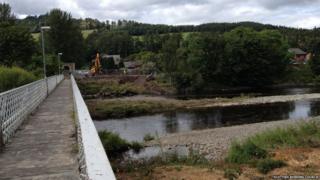 Dry weather has meant part of a £31.4m flood protection scheme for Selkirk is likely to be completed under budget and ahead of schedule.
Work officially began on the project last month.
Low river levels have allowed efforts to lay new pipes ahead of replacing a footbridge to progress quickly.
Councillor Gordon Edgar said there was bound to be disruption during the works but there could also be "spin-off" benefits during construction.
The Selkirk Flood Protection Scheme will remove 595 properties in the Bannerfield, Philiphaugh and Riverside areas of the town from the national flood risk register.
It will do so by protecting against the effects of flooding from the Ettrick and Yarrow waters and Long Philip and Shaw burns.