Wickerman Festival: Dizzee Rascal is first night highlight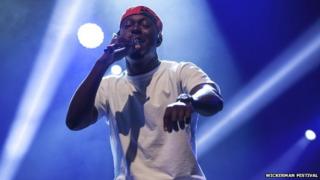 Thousands of music fans saw hip hop star Dizzee Rascal headline the first night of the annual Wickerman Festival.
The London-born star was a surprise booking for the Dumfries and Galloway event.
Other highlights included 60s stars Martha Reeves and the Vandellas performing Motown classics Heatwave and Dancing in the Streets.
It is the 13th edition of the festival, at East Kirkcarswell near Dundrennan.
Britpop band Shed Seven and Wickerman regulars Alabama 3 were also among Friday's performers.
Saturday night's line up includes Scottish favourites Big Country and headline act Del Amitri.
The festival will conclude, as is its tradition, with the burning of a giant wicker figure.