Dumfries and Galloway trailer theft surge sparks warning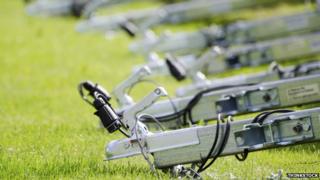 A recent surge in trailer thefts across Dumfries and Galloway has prompted police to issue a warning to owners.
They said there had been incidents in a "variety of locations" overcoming "varying degrees of security".
It is suspected that the majority of the crimes have taken place under cover of darkness.
Ch Insp Irvine Watson urged owners to ensure that their trailers were "stored or secured properly" and appealed for information.
He asked the public to report anyone acting suspiciously around areas where trailers were stored or towing a trailer and acting "in a suspicious manner".
"It would appear that the majority of these thefts may have occurred during the hours of darkness," he said.
"If you would like your local crime prevention officer to do a free security survey on your property, please call us on 101 to organise."