Burns statue square work apology issued by council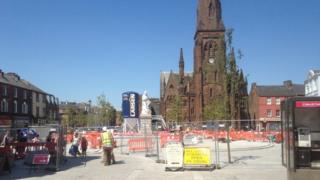 A council has apologised to shopkeepers and residents after missing another deadline to complete upgrade works around Burns statue in Dumfries.
The £1m improvements were supposed to be completed by mid-June and failed to meet a revised target on 8 August.
Dumfries and Galloway Council has written to those affected by the delay to apologise for "any inconvenience caused".
It said contractors hoped to have completed all the works by 29 August.
Work on Church Crescent and the area around the statue should be completed a week before that date.
Contractors Land Engineering have given a commitment to meet the target dates with assurances that they are "achievable" and have "sufficient resources in place".
'Significant project'
A spokesperson for the firm said: "Land Engineering is committed to completing the remaining works around the Burns statue in as short a time as possible whilst minimising any further inconvenience to the traders, residents and visitors to the town centre.
"We continue to work with the local authority's project team to deliver the best quality outcome for this significant town centre regeneration project, overcoming any remaining construction challenges together to meet the revised completion date."
The council said that once the works around the statue were finished there would be a "complete power clean of the whole area" including shop fronts.
Officers from its economic development service will also "engage with traders individually" to help promote the site as a "key shopping area".