Dumfries and Galloway social work services face overspend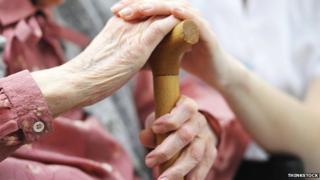 Social work services in Dumfries and Galloway are facing a forecast overspend of more than £400,000 in the current financial year.
Committee vice-chairman Ted Thompson said much of the problem was down to predicting demand.
He said some areas were particularly hard to forecast, meaning funding had to be diverted to deal with them.
Mr Thompson said that meant it was a constant battle to try to balance the books within the service.
"Things come along that you cannot predict," he said.
He cited the example of the extra funds needed to meet "expensive packages" for children in care.
"We will meet these because these people need them but what we will have to do is look at other areas of the budgets where we can make savings," he said.
He said there was a wider issue with the overall funding of the services.
"I would like to have more money," he said.
"I think we do need more money in social work in general - we have a problem in particular, I think, with care of the elderly and that is a growing problem.
"That needs to be recognised at national level and funding needs to be provided so that we can actually meet these needs."