Wigtown Book Festival secures financial boost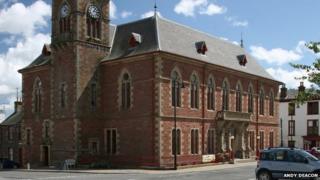 Dumfries and Galloway Council is to make a grant of £37,000 to support this year's Wigtown Book Festival.
The 2014 programme includes Margaret Drabble, Sarah Maitland, Clare Balding, Kate Adie and Kirsty Wark.
In total, the festival features more than 200 events and runs from 26 September to 5 October.
Council events champion Colin Smyth said the festival was a "magnificent promotion" of Scotland's national book town.
"There is a terrific line up of talent for the 2014 festival, with something for everyone, and that will encourage thousands of visitors to flock to Wigtownshire.," he said.
"The council is proud to contribute £37,000 of funding to the festival, because we are so aware of its benefits, including the direct economic impact of £2m it generates for the regional economy.
"Our major festivals and events strategy is really important in building successful, sustainable, memorable festivals in our region, which is safeguarding the cultural vitality of Dumfries and Galloway, and developing year on year our stock of international events."
A 2013 economic impact study commissioned by the Wigtown Festival Company estimated the event generated an extra £2m for the regional economy each year.
There were more than 7,500 unique visitors to the 2013 festival, and some 57% came from outside Dumfries and Galloway.