Spring Fling financial impact reaches £1.4m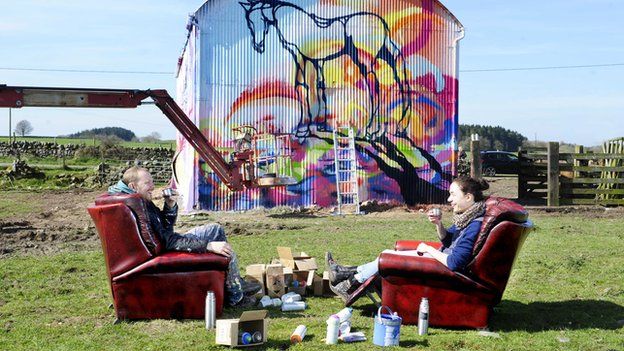 Organisers have estimated the annual Spring Fling arts and crafts event in south west Scotland generated £1.4m for the local economy.
About 40,000 studio visits took place to sites across Dumfries and Galloway in May this year.
Three associated national exhibitions also attracted 18,000 visitors.
Spring Fling Director Leah Black said it had been a "tremendous year" with more artists and makers than ever taking part in the event.
"The results have been wonderful for Spring Fling and the whole region," she said.
"It's great that such a large number of visitors have come here to enjoy some superb contemporary art and craft, and to get a taste of all the other wonderful things Dumfries and Galloway has to offer."
She said the event was "constantly trying to renew itself and come up with fresh ideas".
"This year the rural murals were an enormous hit, with national and international street artists creating fabulous artworks on everything from houses and barns to a tractor and a horse blanket," she said.
"We have also taken Spring Fling outside Dumfries and Galloway with the three national exhibitions.
"These helped bring the region, and its arts, to a whole new audience."
Dumfries and Galloway Council's events champion Colin Smyth welcomed the increase in financial impact.
"The superb results for Spring Fling demonstrate the timeless appeal of the event, the hard work of its staff and board and the sustained investment that the council has put in over a number of years," he said.
"Spring Fling is exactly the kind of international quality event that the Dumfries and Galloway major festivals and events strategy was established to assist and help reach new heights."
Related Internet Links
The BBC is not responsible for the content of external sites.