Council agrees Aikengall wind farm opposition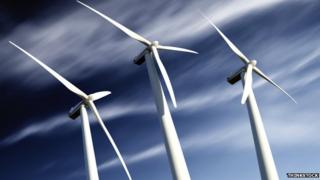 Councillors in the Scottish Borders have agreed to oppose plans for a wind farm straddling the boundary with East Lothian.
Community Windpower wants to construct 27 turbines in the Aikengall IIa scheme near Cockburnspath.
Officials had advised Scottish Borders Council to make an objection to the Scottish government over the plans.
The company behind the scheme said it could provide enough energy to meet the needs of more than 70,000 homes.
The plans also include access roads, control room buildings and a 90-metre high wind monitoring mast.
Unacceptable harm
The development would lie adjacent to an existing wind farm site.
It has attracted opposition from community councils in the area, including Cockburnspath and Abbey St Bathans, Bonkyl and Preston in the Borders and East Lammermuir Community Council in East Lothian.
Council planning officials were unhappy with the proposals as well.
They advised they would "unacceptably harm" the Borders landscape and would also impact on local residents and visitors.
Councillors agreed to oppose the project although the final decision lies with the Scottish government.