High Wood Health selected as Dumfries hospital preferred bidder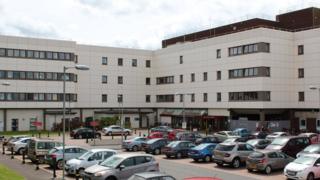 High Wood Health, a consortium including Laing O'Rourke, has been named as preferred bidder to build a new £200m general hospital in Dumfries.
It saw off remaining rival Balfour Beatty to secure the status.
A third bidder, Skanska, dropped out of the process last year after reviewing its resources in the UK.
NHS Dumfries and Galloway said High Wood Health would start construction of the 350-bed facility on the outskirts of Dumfries next year.
Chief executive Jeff Ace said: "This is the major milestone that we have been working towards for months now, along with two bidders who have produced the final designs for the kind of facility that we need so that our staff can deliver the best care possible for our patients."
Project director Dennis O'Keeffe said the decision followed an "intense period of competitive dialogue and evaluation".
"Their proposed solution is one that brings to bear a consortium of designers and contractors with considerable expertise and resources to fulfil our expectations," he said.
Highwood Health is a consortium with Laing O'Rourke as construction partner and Serco providing its estate management services.