DG One replacement works at Loreburn Hall 'shaping up'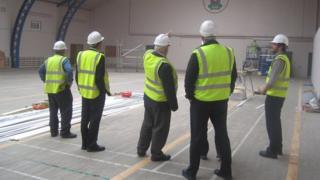 Works are on schedule at a hall being upgraded to host facilities being lost when a multi-million pound Dumfries leisure centre shuts for repairs.
The Loreburn Hall will provide gym and sports facilities when DG One closes from 6 October.
Councillor Tom McAughtrie said facilities would be of a "high standard" and were "shaping up well".
The DG One centre has been dogged with a string of problems since it opened in 2008.
The whole site will shut for four months with its swimming pool expected to be closed for a further 13 months after that.
Dumfries and Galloway Council is currently taking legal action to recover the costs of the repairs from contractors.
Mr McAughtrie said works on the "dry-side" replacement looked impressive.
'Various strands'
"It is important to remember this is a temporary facility but judging by what I have seen today, the customer will have a thoroughly enjoyable experience when they visit DG One @ Loreburn Hall," he said.
"The hall is more than big enough to cope with the various strands of health and fitness our council offer and I look forward to the opening of the facility in October."
Dumfries Provost Ted Thompson said he was "really pleased" with the way works were progressing.
"On talking to the workmen it is clear that there is a real enthusiasm to restore the hall to its former glory," he said.
"I have nothing but good memories of the Loreburn Hall and this work initially to turn it into a temporary fitness facility will create a good basis for its future use as a community asset."