Galloway Forest Park hosts experimental music and art event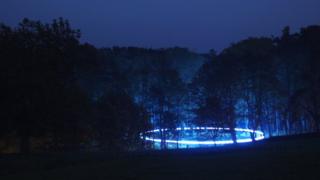 The Galloway Forest Dark Sky Park is set to play host to 24 hours of experimental music and art.
The event, which has been named Sanctuary, will include sound and light installations designed to "stimulate the senses".
An on-site radio station will also broadcast previously unheard music from a diverse range of artists.
This new work can only be heard at the site and the sound files will be destroyed afterwards.
Hundreds of art and music enthusiasts are expected to spend the night in the forest on 27 and 28 September.
Among the attractions on offer will be a 100ft neon light sculpture by Robbie Coleman, called Enclosure.
The event, which will take place around Murray's Monument miles from the nearest town, is a collaboration between artists Mr Coleman, Jo Hodges and Stuart Mclean.
Jan Hogarth, from arts group Wide Open, said: "This is one of the most exciting art collaborations to happen in the landscape of Scotland this year.
"There will be amazing music that no-one else will ever hear, most of it is composed for this event, a dramatic light installation and the chance to enter the world of the paranormal - all taking place in a remote forest in the Dark Sky Park in Galloway.
"Jo Hodges, Robbie Coleman and Stuart Mclean are a highly imaginative team and they are offering the chance to experience a whole alternative reality."
'Exciting place'
Mr Coleman said the Dark Sky Park was an "incredible place to spend the night."
"It's an exciting place to create experimental work," he added.
Keith Muir, head of tourism for Galloway Forest Dark Sky Park, said the on-site radio - the Dark Outside FM - would provide a unique experience.
"How often do you get a good reason to take a drive to the countryside in total darkness and listen to music?" he asked.
"For the Dark Sky Park, art is proving to be one of the best ways to communicate the importance of light and darkness.
"The Sanctuary of music and the space it creates is a very powerful instrument and Galloway Forest Dark Sky Park is delighted to be able to host this event and the growing number of art works."