Peebles mountain biking summit attracts global interest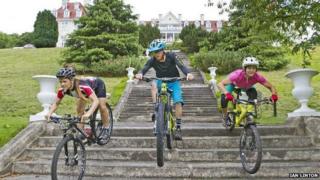 Worldwide interest is growing in a mountain biking summit to be held in the Scottish Borders later this year.
Delegates from Denmark, Sweden, Holland and Switzerland are among those who will attend the event in Peebles.
The Scottish Mountain Biking Conference is taking place in the region from 11 to 13 November.
Among the speakers will be Commonwealth Games cyclist Grant Ferguson and Swiss rider Hans Rey, known as the "world's foremost adventure rider".
Graeme McLean, project manager of Developing Mountain Biking in Scotland, said: "It's extremely exciting to look at the delegate list forming for the conference, and to see such a wide range of nationalities already signed up.
"We know that the mountain biking we have here in Scotland is world class, and it is good to see that appreciation on a world stage.
"Our international visitors are sure to have a fantastic time in Scotland and we look forward to welcoming them."
'Global centre'
Kerry Watson, from the business tourism unit of VisitScotland, said it was thrilled with the level of interest.
"Mountain biking is already a very profitable industry for the Scottish economy, and the success of the conference further highlights the value of mountain biking to us," she said.
"With international stars arriving as speakers, alongside the delegates from a variety of countries around the world, Peebles will once again turn into a global centre of excellence for mountain biking.
"We know that Peebles, and Scotland hold a great draw for international mountain bikers, and the professionals involved in delivering mountain biking, and we are looking forward to sharing our experiences and good practice with them."