Langlee Primary replacement schedule speeds up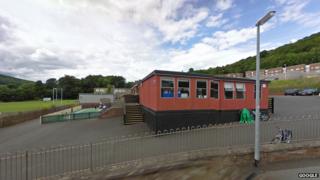 Work on a replacement for a Borders school, scheduled to begin in 2018, could start earlier than anticipated.
The news comes after Scottish Borders Council received extra funding from the Scottish government.
That could allow work to replace Langlee Primary in Galashiels to begin long before its projected start date.
Other primary schools in the town could be amalgamated to create a "super primary" close to the Academy site by 2024.
The local authority had allocated £21m in its capital spending programme for the building of a new secondary school in Kelso over the next few years.
Poor conditions
The council had hoped to get £14.1m of that total from the Scottish government through its capital investment arm the Scottish Futures Trust (SFT).
However, last month it was revealed that the SFT was prepared to cover the entire cost of the Kelso High replacement project.
A condition of the funding would be that the balance of £6.9m which the council had committed would part-fund the replacement of other schools suffering from overcrowding or poor building conditions.
Now it has been announced that the two schools at the top of the council's list of primaries requiring major investment are Broomlands in Kelso and Langlee.
That could see the Galashiels project get under way much more quickly than originally expected.