Dumfries leisure centre switch under way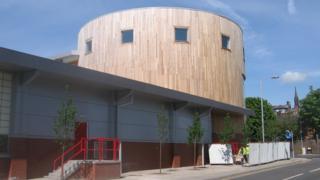 Final preparations are being made ahead of the closure of a £17m leisure centre in Dumfries for major repairs.
The flagship DG One complex is due to shut next week for up to 17 months.
It comes as Dumfries and Galloway Council is seeking compensation from the original contractors to cover the costs of the work.
In the meantime, a temporary swimming pool has been built next to the town's Ice Bowl and the Loreburn Hall has been refurbished for fitness facilities.
Council leader Ronnie Nicholson said the switch should go smoothly.
"We have had a lot of challenges from DG One but what we have got now is state of the art facilities with the new swimming pool and the Loreburn Hall with the gym equipment," he said.
"I hope people do use it because I think they will get a pleasant surprise about what's actually on offer."