Kelso High School plan approved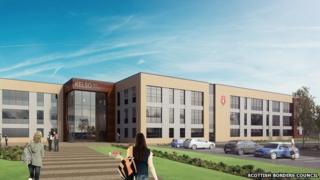 Proposals seeking full planning permission for a new £21.8m secondary school for Kelso have been agreed.
Scottish Borders Council had been advised to approve the scheme on land off Angraflat Road with conditions.
The new school will replace the existing Kelso High School, which dates from the 1930s.
As well as the new school, playing fields and parking areas will be constructed as part of the project.
An earlier bid for planning permission in principle was granted by councillors last year.
Use of the site for education purposes should, a report to planning committee members said, be regarded as the "settled position" of the local authority.
Planning officials said the proposed school building would provide "a statement of quality and presence" in Kelso, although some landscaping issues will have to be addressed.
The new school was given the green light, but with a number of conditions attached to the consent.
They include details about landscaping, signage, drainage and sewerage issues and protection for wildlife.