Dumfries DG One repairs under way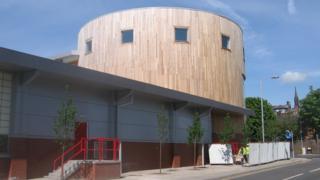 A flagship leisure centre in Dumfries has begun a lengthy closure to allow major repairs to be carried out.
The DG One facility opened in May 2008 after a string of delays.
However, it has been plagued by building faults and the council-run facility is now set to undergo repairs and maintenance costing nearly £4m.
It will shut completely for four months with its swimming pool facilities closed for a further 13 months after that.
Dumfries and Galloway Council is seeking compensation from the contractors who built the complex.
It includes a claim for the costs of providing temporary sport facilities during the closure.
Gym facilities have been transferred to the town's Loreburn Hall while a temporary swimming pool has been put up in the Ice Bowl car park.