Dumfries and Ettrickbridge families join overseas death protest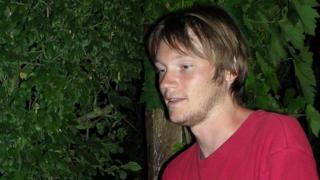 Two south of Scotland families have joined a protest in London seeking greater support for the relatives of people who die overseas.
Julie Sheppard, of Ettrickbridge in the Borders, lost her son, Andrew Watt, in France in 2010.
Michael Porter, the son of Dumfries woman Jean Hanlon who was found dead in Crete in 2009, is also taking part.
They demonstrated outside the Foreign and Commonwealth Office and the embassies of the countries involved.
This is the third consecutive year that families have made such a protest.
It total, 32 people were expected to be aboard a bus visiting the embassies and the FCO.
Ms Sheppard has been campaigning for more information since her son was found dead in a country lane in north west France.
She said discrepancies in the official accounts of what happened had not been explained and that bereaved families needed more support from the UK authorities.
Ms Hanlon's family are convinced she was murdered but have been frustrated by the lack of progress by the Greek island's police and legal authorities.
The FCO said it would meet with any family concerned about the death of a loved one overseas.
"This is an incredibly difficult time for any family and the FCO has teams of trained professionals in the UK and across the world ready to offer support," a spokesman said.
"Every year, over 6,000 British nationals die overseas, and the FCO offers to provide consular support to every single family in conjunction with a range of partners including the police and coroner services.
"We also provide direct funding for many of our partners, including Victim Support, Victim Support Scotland, Missing Abroad and the Travel Care organisations and Chaplaincies at UK airports, to enable them to provide additional specialist support where we cannot."
He added that they regularly reviewed polices and training in light of feedback from a number of groups as well as families themselves.
"However, the investigation in to the death of any British national is a matter for the judicial process of the country in which they died, and we must respect their systems just as we expect them to respect the UK's laws and legal processes," he added.
"As part of our focus on assisting the most vulnerable people overseas, we are considering new ways in which we may be able to do more, including more support for next of kin when they visit a country, and new partners, including to provide support for families after road deaths abroad."