Dumfries and Galloway projected social work overspend cut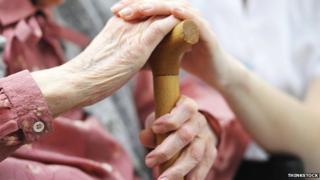 A forecast overspend on social work services in Dumfries and Galloway has shown a slight reduction.
At the halfway point in the financial year the potential deficit facing the department is just over £370,000.
Earlier this year, the vice-chairman of the social services committee, Ted Thompson, said it was a constant battle to meet spending targets.
However, the department has said it is committed to delivering a balanced budget via new financial controls.
Social services provides care and support to the most vulnerable people in the region but the budget is itself vulnerable to sudden and significant shifts in demand.
Additional residential placements for children can have a huge impact on spending.
That is reflected in the latest figures which show that just two new referrals have led to a projected £217,000 overspend for agency placements alone.
Nonetheless, the department's forecast deficit has fallen by £64,000 to £373,000 which equates to less than 0.5% of the overall budget.