Star of Caledonia: Gretna border project faces fund doubts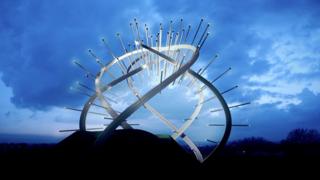 The team behind plans for a landmark sculpture at the Scotland-England border says they are at "real risk" after missing out on major funding.
Creative Scotland has decided not to offer the Star of Caledonia at Gretna £1m of support.
The decision was due to the failure to secure other public sector funding commitments for the £5m scheme.
The Gretna Landmark Trust (GLT) said it was determined to see the "vision become a reality" despite the setback.
The Star of Caledonia at Gretna already has planning approval and the aim was to begin construction next year.
One study claimed the landmark, designed by Charles Jencks and Cecil Balmond, could be worth £16m to the local economy in its first year alone.
However, the GLT admitted earlier this year it had been a "long struggle" to try to get the necessary funding in place.
A failure to secure wider public sector support has now cost the project one significant potential backer.
Alasdair Houston, who chairs the GLT, said it had been encouraged by many expressions of support from politicians but it was time to turn that into "firm funding commitments".
"It is crucial that one of the public sector bodies take the lead and join us in this courageous project that comes from the heart of the community," he said.
"Right now Scotland is redefining its place in the world.
"There could be no better moment to push ahead with a project to create a magnificent landmark which celebrates Scotland's energy, creativity and innovation."
'Deemed deliverable'
He said the project was of "international quality and scale".
"Without political leadership there is a real risk that this unique opportunity for our region and Scotland will be missed," he added.
Creative Scotland said it did make public comment on individual unsuccessful applications.
"Capital funding is allocated in two stages," a spokesperson explained.
"Firstly, initial development funding is awarded to enable projects to develop proposals.
"Project plans are then assessed by Creative Scotland at stage two and if the project is deemed deliverable, the in-principle commitment outlined at stage one will be awarded."