Dog-dodging cyclist falls into Eyemouth harbour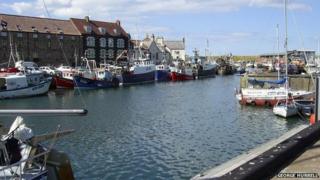 A cyclist has been rescued after he fell into a harbour when he swerved to avoid his dog.
Emergency services were called to Eyemouth harbour at about 00:20 after two people dialled 999.
The cyclist had managed to clamber on board a small fishing boat by the time they arrived.
Eyemouth lifeboat took him to shore, where he was transferred to an ambulance and taken to hospital, Aberdeen Coastguard said.
It is thought the man tumbled into the water after swerving when his dog ran in front of his bike.
The man was not thought to be injured but was mildly hypothermic after up to 17 minutes in the water.